Posted by Gina O'Brien on 8th Feb 2012
Country colors, textures and patterns create a warmer living space than almost any other style. At its heart, country style is family oriented. It is the kind of décor people associate with friendly gatherings and family fun.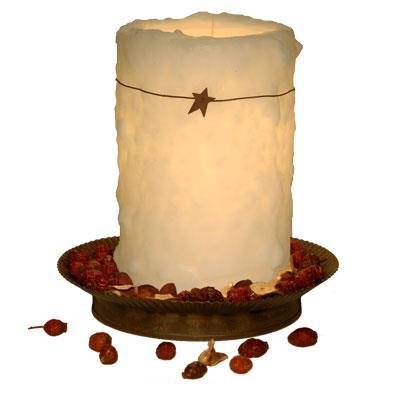 Incorporating country decor touches in your home is easy! By adding a few pieces at a time, you can introduce the warmth of country without spending a bundle. Country decor also blends well with other decor styles, so if you don't want to make a wholesale change to country but enjoy the "country look", you can easily do that with these Country Village items:
Candle sleeves go well with other home-style country accessories. In addition to having seasonal and holiday-inspired designs, they offer a splash of color and texture for the bric-a-brac shelf or mantel. Pair them with a base and flameless candle. Flickering candle light adds color and animation to any room.
Country quilts come in all imaginable color combinations and styles. They are perfect for bedroom use, but work equally well as chair and couch covers. You can also display quilts by hanging them on a wall for a focal piece or by using quilt ladders. Quilts also functions as excellent throws for cold winter evenings. Coordinating throw pillows enhance the decorative pattern. Patchwork is guaranteed to look friendly and welcoming in any room.
Few things add a warm and homey touch to a room like curtains. Without curtains, a home is only a house. Country curtains come in a variety of styles. Prints are in plaids, ginghams and calicos. These simple patterns with warm colors and fluffy edges combine to create a comfortable dressing for room windows.
Wood and wicker coordinate well with soft country furnishings. Natural colors add to the overall warm affect. Prominent wood grain soothes the eye and the rough weave of wicker adds a dimension of texture to room décor that is impossible to achieve with other materials.
Adding a little bit of country to home décor brings in warmth like nothing else can. Country décor is filled with color, pattern and texture, all of which are known for softening the hard edges of a modern room. Country motifs are the images that people cling to when they think of a cozy home interior.